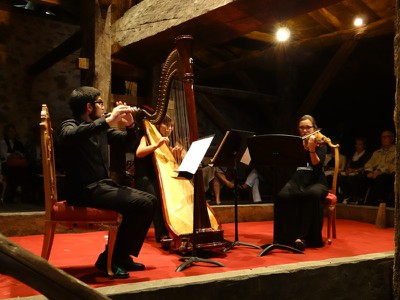 Date: first Saturday in October
In cooperation with: Zumarraga Municipal Council
We have been staging concerts in the cider press room of the farmhouse since 2009, in co-operation with the La Antigua Music Cycle in Zumarraga.
In the course of six years there have been performances by the Ensemble Diatessaron trio, pianist Javier Pérez de Azpeitia, soprano Elena Barbé accompanied by pianist Gerardo Rifón, the Finis Mundi group, the Attrium trio and Ana Agirre (viola), Dario Castañeda (flute), Sara Estudillo (harp) and Mathilde Bernard (harp).
Type of activity: for ages 18 and over
*Recommended for lovers of classical music.