The interpretation centre adjacent to the Igartubeiti farmhouse is intended to complement and form a single whole with the house and its cider press. Its job is to provide visitors with further information over and above that which they can obtain by visiting the farmhouse itself, helping them to understand the key features of Basque farmhouses, their architecture, their inhabitants and the way of life in them.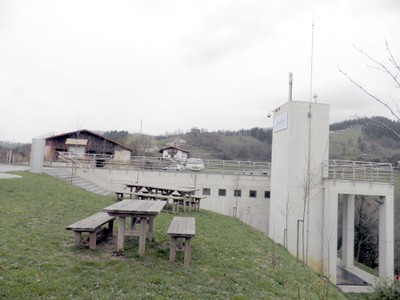 The centre is built to the south of the farmhouse, in the shelter of a hillock, looking towards the valley so that it does not interfere with the view from the farmhouse, which is a core feature of the project, and has no visual impact on the view of Igartubeiti itself or of the valley where it stands.
As with the rehabilitation of the farmhouse itself, it is built in a style that respects the natural surroundings as far as possible, with no protruding features that would clash with the character of the location.
The centre has a rectangular floor plan that takes up a surface area of 672 m2. Its elongated shape, following the natural curves of the land, means that it can only be seen from the hillside opposite. It is located in such a way that its main façade, protected by a colonnade on the eastern side of the building, acts as a walkway, a shelter and a covered viewing balcony onto the mountains to the east.
The 150 m2 entrance hall is off the gallery overlooking the valley that runs along the main facade. The flat roof, which stands at the same level as the vegetable patch in front of the farmhouse, doubles as a car park capable of taking two coaches and 12 cars, with direct access from the road.
Areas open to the public at the interpretation centre
The building has specific areas given over to the following uses:
Multipurpose area

Temporary exhibitions
Educational workshops

Reception and customer service area
Supplementary services

Shop
Cider tasting area
Food and beverage dispensing machines

Offices and storage areas.